CANx is an open standard protocol for building control, m2m, IoT and other remote control and measurement applications. It enables simple, low-cost devices to be networked together with high-end computers and/or to work as an autonomous system, whatever the communication media is. CANx is free and open – no usage, patent or other costs for its implementation and use.
CANx is based on the reliable and widely-used CAN FT media. It allows to manufacture low cost nodes that can work reliably, efficiently and can be trusted in their day-to-day operation. CANx is fully European technology including design, manufacturing, main components and assembly.
Highlights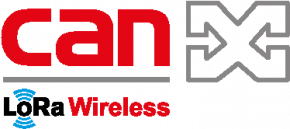 Highly secure and encrypted communication between system elements (wired and wireless), web and cloud services
CAN FT is the latest version of international standard ISO 11898-3:2006
High bandwidth – 48K over CAN FT bus
Most advanced wireless communication based on LoRa 433 modulation, the distance is up to 15 km. See here benefits of Embedded Systems LoRa implementation
Any device with LoRa module can operate as repeater, receiver or transmitter
CANx configurator is freely available from LM app store
Co-existing with KNX and eliminates drawbacks of KNX (fieldbus speed, security, semantics and other) while leaving the same user-experience and compatibility
ETS-friendly – import project files and enrich with semantics
CANx can be used equally well in other environments other than CAN FT – IP networks, wireless etc
Unified data types for full compatibility with other protocols
CANx system can check device health and report errors automatically
Probably the best price per channel on the market without compromise on technological or quality side
CAN is time and harsh environment proven technology. It is a popular fieldbus system in space, automotive, aerospace and railway industries
Full list of features can be found in CANx Flash document or canx.info or labs.canx.info
Short start-up guide
Topology
Any topology (except loop) can be used: Line, Star, Tree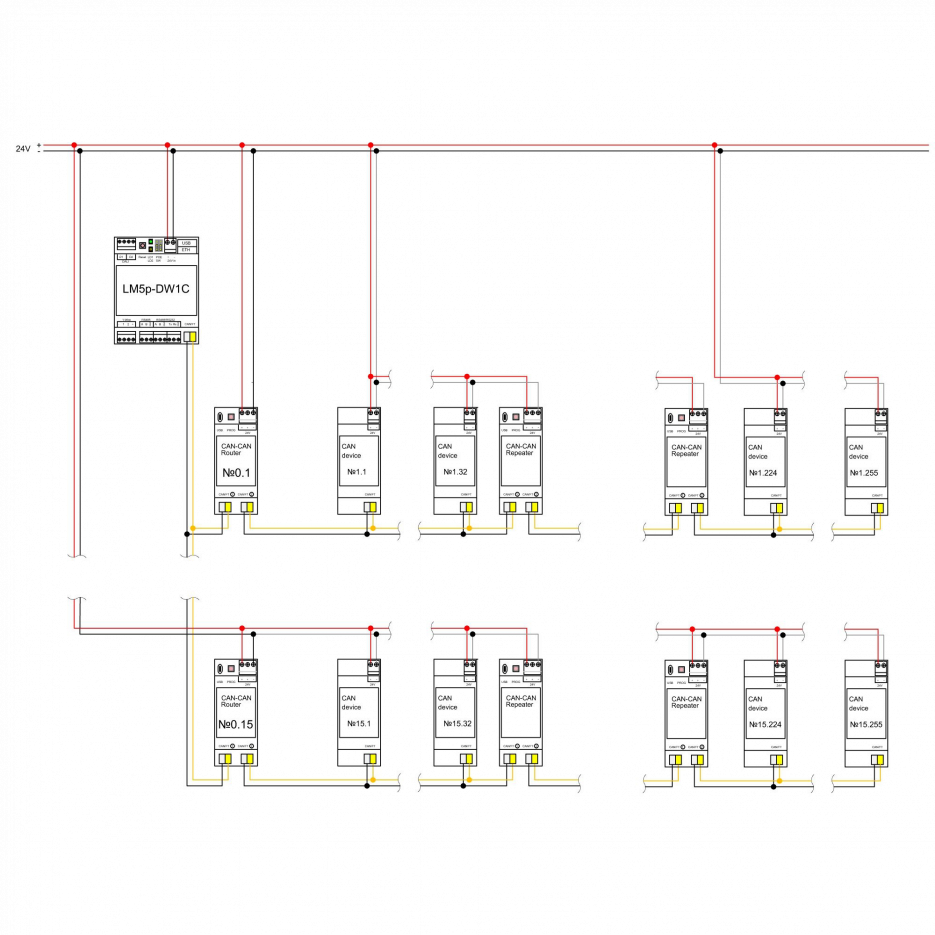 Security and maintenance
Security is key concern for any IoT system, especially for Industry 4.0.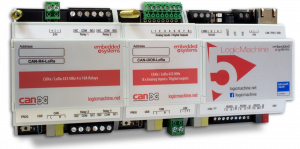 Besides encryption, the whole network can be put in a state where only control/status messages are allowed but any configuration change attempts are blocked completely.
Direct telegrams can be disabled, so parameters and addressing cannot be changed. This way only group communication works
Device status can be checked via ping telegram, it replies with a number of errors (how many telegrams were not sent/received well)
Object status (input/output) can be checked via ping telegram, device replies with error code – broken wire, short-circuit etc
Telegrams can be filtered to isolate devices/telegrams from passing to unwanted segments
Devices can provide status and error state information on internal IO ports. Supervisor device can monitor these states and notify in case of any problems
LEDs are used for device discovery, indicating activity, TX/RX, error states if any
Commissioning tool
CANx configurator is freely available from LM app store
Multi-platform web-based app on LogicMachine. No more limitation to Windows OS only
Common for all CAN devices, works either as a web-application (part of LogicMachine) or stand-alone application for MAC, Windows and Linux (coming later)
Each device has a unique hardware and software ID. Configuration profile is downloaded by the commissioning tool automatically
ETS project files can be imported and enriched with semantics
Mobile ready – There's an additional simplified mobile-oriented application which can be used by both beginners and professionals to configure the installation. This approach allows dividing the workload into basic and advanced thus saving time for professionals
See CANx configuration tool manual here.
Semantics-based object connections
Each device contains information on internal IO ports: whether it is a sensor or an actuator; temperature, pressure or co2 reading etc. This information is used to create connections between devices in a semi-automatic way.
Devices
Download CANx devices SHORT catalog here
Download CANx devices FULL catalog here
Documents for download

Download CANx Flash

Download CANx brochure

Download CANx-LoRa wireless benefits

Download CANx configurator manual

CANx device reflashing manual

CANx device reflashing software