Ekey biometric scanner interconnection with LM5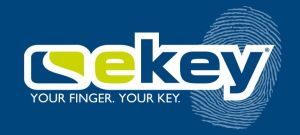 The new "ekey fsx" app now is available for download in the LM Appstore
This application can be used:
to integrate ekey FSX scanners into the LogicMachine environment as KNX sensors (monitoring the fingerprint or RFID card recognition or binary inputs) or as KNX actuators (to control the scanner on-board relay and scanner LED lights)
functionaly as an alternative to traditional biometric ekey access control solution 'ekey net' or 'ekey home' with multiple extra functions:

the connected ekey scanners can be configured, operated and monitored online using this app
can be registered max. 200 fingerprints
max. 8 ekey fingerprint scanners can be connected to the single LogicMachine RS485 port or to ekey USB converter
contains the internal user credentials (fingerprints and RFID cards) database
the LogicMachine lua scripts can be used to use the functions not included into web application user interface
The App user manual can be downloaded here
The ekey FSX fingerprint scanners need to be registered with Access code to be enabled for full functionality.