Streaming Audio
Amati.linea Streaming Player – get inspiration from invisible, lossless music
Amati.line = High grade components, High-end engineering attitude, High efficiency
Invisible concept
Music device embedded to wall boxes, no wires
DIN rail mountable
Tiny design 52x90x51 mm
Music sources supported in-box
UpnP server
DLNA server
AirPlay sender
FTP, NFS, HTTP servers
Internet radio
Internet music services
Playback from USB storage
BMS ready solution
KNXnet/IP on-board
Modbus RTU/TCP on-board
Bacnet/IP
High quality sound
Up to 24 bit 192 kHz
losless FLAC support
Other features
2 x 40W / 8 Ohms built-in amps (2-speakers)
1 x analog output for subwoofer
2 x USB on board for Music storage
Easy operation using iPhone / iPod / iPad app, Android compatible apps
WEB-based visualization and built-in player
Technical specification
Feature / Product
Streaming player with 2x55W amplifier, DIN
Streaming player HD without amplifier, DIN
Connectivity
1 x 100BaseTX ethernet
2 x USB,
1 x IR input, 3.5 mm
1 x 2 outputs for stereo loudspeakers, clamp
1 x Analog subwoofer output
1 x 0-10V analog input for external volume control, clamp
4 x Binary inputs, for standard push-button connection
1 x 100BaseTX ethernet
1 x USB,
2 x line-out, screw/RCA
1 x 0-10V analog input, clamp
4 x triggers for zone control, clamp
Audio amplifier
Continues output power: 2 x 55W
THD+N: 0.07%
SNR: 102dB
–
Sampling frequencies / resolutions
8kHz to 384kHz
8kHz to 384kHz / 16, 24, 32 bit
Supported audio formats
MP3, WAV, AAC, WMA,
FLAC, lossless FLAC 96/24, 24/192
MP3, WAV, AAC, WMA, FLAC, lossless FLAC 96/24
Protocols supported
DLNA, UPnP, AirPlay, FTP, NFS, HTTP, KNXnet/IP, SAMBA
DLNA, UPnP, AirPlay, FTP, NFS, HTTP, KNXnet/IP, SAMBA
Clock Oscillator
Low jitter (0.5 psec typ.)
Low jitter (0.5 psec typ.)
Power supply supported
18-26 VDC
7-36 VDC
Power consumption
1.2W idle mode
1.2W idle mode
Weight
0.3 kg
0.3 kg
Dimensions/Enclosure
70 x 90 x 51 mm (W x H x D), DIN-rail plastic case
52 x 90 x 51 mm (W x H x D), DIN-rail plastic case
Operating temperature
-5ºC to 55ºC
-5ºC to 55ºC
Application example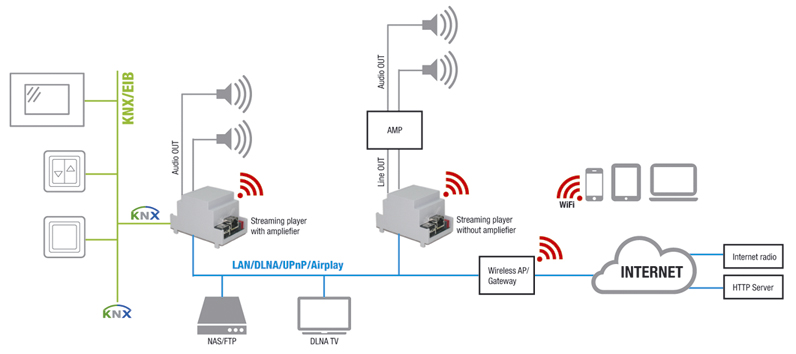 Used functionality
Play/stream music content on Streaming player from the following:
NAS/FTP/Laptop
HTTP server, Internet radio
iPhone, iPad
USB Flash (on specific Streaming Player)
Control of the Streaming player from:
iPhone, iPad app: source selection, playlists, music control etc.
Laptop: remotely connecting to one of Streaming Players visualization server, full player functionality, source selection, creation of playlists, integration with building automation protocols etc.
KNX/EIB building automation system sensors or automatically on events: Next/Previous, Pause, Mute etc.
You can download our information materials as PDF files here.
Streaming High Definition Audio Player manual
Hi End Streaming player with amplifier images