HOME
We are a group of experienced designers and developers.
We set new standards in user experience & make future happen.
Logic Machine platform enables installer to efficiently customize building automation processes,
easily delivering unlimited flexibility benefit to end users in a cost-effective way.
IP Router functionality
Interactive telegram filtering by source and/or group addresses
Object logger
Secure tunnel protocol for SCADA applications and KNXnet/IP connection
Fast multi-level visualization creation and processing
PC, Android/iOS touch visualization
Event-based, scheduled and resident scripts
Automatic detection of KNX/EIB objects
2 USB ports on board for WiFi, GSM and other peripheral connection
Standard and protocol Compatibility
WIFI through USB
Modbus – RS485 or Ethernet
GSM through USB
DALI through KNX-DALI gateway
KNX on-board
EnOcean through USB or KNX gateway
Ekey through RS485
DMX through RS485
BACnet through Ethernet or RS485
HDL through Ethernet

KNX/EIB Logic Machine II user interface and visualization

Technical specification
Platform
2 x CPU on-board:
− ARM9 400MHz
− Atmel AVR
SDRAM
64 MB
Flash
256 MB
Connectivity
1 x 100BaseTX ethernet port, 2 x USB ports, 1 x RS485
IO on-board
4 x open collector outputs for controlling external relay modules;
4 x 0-30 V analogue-binary inputs
KNX interface
Integrated KNX FT1.2
Power input
7-36 VDC from external power supply
Real Time Clock
yes
Hardware watchdog
yes
Physical and Warranty
| | |
| --- | --- |
| Case | 52 x 90 x 51 mm (W x H x D), DIN-rail plastic |
| Operating temperature | -5°C to 45°C |
| Warranty | 2 years |
Features
Fast multi-level visualization creation and processing

Create your visualization map just in few steps by freely uploading background image file and adding objects.
Built-in 400MHz CPU guarantees very fast visualization processing even with huge count of objects.
PC, Android/iOS touch visualization

A specific touch visualization is included in Logic Machine
for Android and iOS system based touch devices.

Logic Machine acts like IP router with functionality like KNX telegram filter by source and group addresses, firewalling and quality of service.
It can be used as KNX Line coupler or Area coupler.

There is a possibility to enable logging for each
of the KNX objects to trace its historical activity afterwards.
Secure tunnel protocol for SCADA applications

To unite two or more offices over Internet secure tunneling
should be used making one common KNX network over TCP/IP network.
Event-based, Scheduled functions and Resident scripts

There are three types of scripts implemented in the Logic Machine:
− Event-based – scripts that are executed when a group event occurs on the bus.
Usually used when nearly real-time response is required.
− Scheduled – scripts that run at the required time and day.
Can be used for various security systems and presence simulations.
− Resident function – scripts that use polling to check for object state changes.
Usually used for heating and ventilation when data is gathered from more than one group address.
You can use unique names or several tags to mark your objects.
This way group addresses can be easily changed without the risk of breaking scripts.
Tagging system allows working with several similar objects at once.
Scripting repository and built-in helpers

Scripting editor features built-in code snippets which make creating scripts significantly easier for the end-user.
All customers gain access to the scripting repository with examples and tutorials for all common scenarios.
Automatic detection of all objects

Logic Machine automatically adds new objects to the database when group events occur, so there is no need of doing it manually.
Just set the correct data type and your new object is ready for scripting.
Application example
Installation is done in trade center consisting of 16 floors.
For transparency purposes only three are showed in this application example.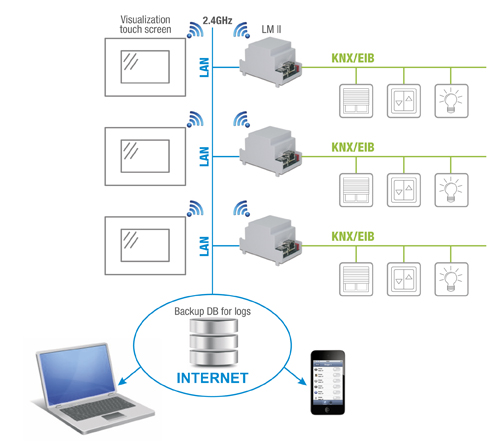 Used functionality
IP Router with telegram blocking from one line to another
Each LM acts also like visualization server for separate touch screens on each floor
Object status logging for each line on respective LM
Blinds, lighting and temperature control with specific scheduled and even-based scripts
Each separate LM is accessible from internet
You can download our information materials as PDF files here.
KNX/EIB Logic Machine 2
KNX/EIB Logic Machine 2 Interface feature matrix
KNX/EIB Logic Machine 2 Manual
For more features and screenshots
Read more..